Order mothers day flowers delivery sunday! It's a great way to congratulate your loved person right on the day of the holiday, having arranged a pleasant surprise for the gifted. You can apply for mothers day flowers delivery sunday directly on the website of the company KROKUS in just 5-10 minutes. In addition, you can buy mothers day flowers and order their festive delivery simply by calling the operator of our studio at +371 200 303 06. Show your love, warmth and care with the help of the best online floristic shop KROKUS.
Mothers day flowers sunday delivery in Riga (Latvia)
Among a lot of modern holidays, Mother's Day is gaining a wide popularity. Traditionally on this day it is customary to congratulate the present and future mothers, handing them inexpensive gifts, souvenirs, treats and, of course, flowers. In our country Mother's Day is celebrated on the second Sunday of May. That's why the online shop KROKUS invites everyone to congratulate close friends, wives and mothers on this wonderful spring holiday, ordering mothers day flowers sunday delivery at the address in Riga or in any other city of Latvia. The indisputable advantages that distinguish us from competitors are:
● the ability to choose the size of almost any flower arrangement;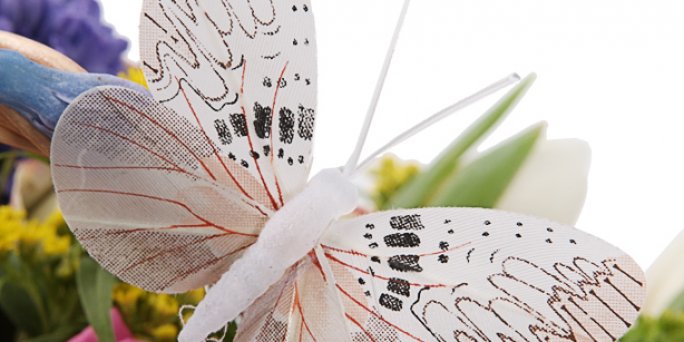 ● the highest quality of both flowers and designer's bouquets created by professional florists;
● wide opportunities for courier service;
● a large range of flowers, as well as gifts, accessories and additions to them;
● the most adequate prices.
The strong aspect of KROKUS is 24/7 delivery service
The pride of our online shop is a courier service that provides services twenty-four-hour and without days off. Only in KROKUS you can order mothers day flowers sunday delivery in Riga (Latvia) and get a ready bouquet on the same day. In addition, we are ready to bring a bright and magnificent arrangement even at night so that you can give it at a convenient time! Agree that this service you will not find in any flower shop of Riga and Latvia. You will find cheap mothers day flowers of the best quality only at us!
Cheap mothers day flowers delivered in Riga (Latvia)
Another argument in favor of buying a bouquet in KROKUS is a wide range of prices. Here you will find flowers, the cost of which does not exceed 15 euros. It is worth noting that in the catalog of the shop you can choose such arrangements as:
● luxurious roses in hatboxes;
● royal or Dutch tulips in wicker baskets;
● exclusive bouquets of blue, crimson and orange roses, peonies, lilies, freesias, gerberas, orchids, hydrangeas and other varieties of garden flowers.
Going to the page of any arrangement, you can specify the desired number of flowers in it or simply indicate the sum that you are willing to spend on a bouquet. In this way, you can order cheap mothers day flowers delivered on Sunday in Riga and all over Latvia, saving money and time. Fresh happy mothers day flowers with delivery to any address at good prices!
How to buy mothers day flowers in Riga (Latvia)?
To make an order for flowers delivery on Mother's Day at the address in Riga or any other part of Latvia, contact the online shop KROKUS. You can do this by calling the company manager at the specified phone number or by using the convenient functions of our website. Be sure, to deliver flowers mothers day in Riga (Latvia) will be performed at the specified time, and a close person will receive a fresh bouquet with the warmest and most sincere wishes.