Pleasure your dearest with a chic bouquet of 70th birthday flowers! To congratulate grandmother or grandfather with an anniversary is very simple: order flowers for birthday in the best floristic studio of Riga and all over Latvia KROKUS. KROKUS is the best place to buy flowers online. A convenient catalog of goods, reasonable prices, high speed of order processing and prompt delivery are waiting for you! In addition, you can order flowers online same day delivery just by calling the shop operator at any time of the day or night.
What flowers to present on the 70th birthday in Riga (Latvia)?
One of the most important and significant events in the life of each person is the anniversary. Especially, if we are talking about the 70th birthday. What to give a birthday person in honor of such a significant date? Certainly, flowers will be one of the most suitable presents. The best way to order flowers for a birthday in Riga is to call KROKUS studio.
Online shop KROKUS is glad to welcome its customers on the official website and invites everyone to congratulate grandfather or grandmother, mother, father, teacher, acquaintance or other loved one on the anniversary and order flowers for birthday with delivery in Riga and other cities of Latvia. A bright and magnificent bouquet will undoubtedly please a birthday person and will convey your most sincere feelings and warm wishes.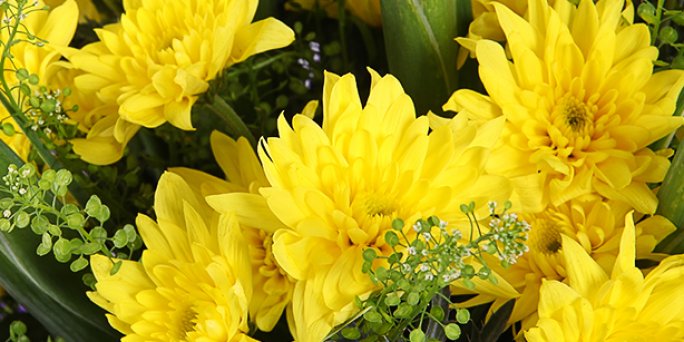 Advantages of ordering flowers in KROKUS
Why is KROKUS the best place to buy flowers online in Riga and all over Latvia? The answer is simple - only we offer a wide range of exclusive bouquets with home delivery at the most adequate cost. In addition, among our advantages is a flexible pricing policy. It consists in the possibility of resizing almost any arrangement from our catalog. For example, if a customer does not like the cost of the designer's bouquet, our florists will happily reduce the number of flowers in it, so that the arrangement will be optimal according to the planned budget.
We also note that the pride of our company is our own courier service. You can order flowers online same day delivery in Riga (Latvia), at night, on weekend or holiday. And if you want to organize a surprise for the jubilee person, then make an application for anonymous delivery of the bouquet. Also a photo report on the receipt of a gift is in the range of courier services. To send flowers online to Riga is possible simply by making an order on the website!
Assortment of flowers to order online in Riga (Latvia)
Among the products in the catalog of the online shop KROKUS, the customers will be able to find such types of garden and field flowers as roses, tulips, gerberas, irises, freesias, hyacinths, callas, alstromeries, orchids, chamomiles, lilies, hydrangeas, chrysanthemums, peonies and etc. Experienced florists carefully collect from them original arrangements in hatboxes, wicker baskets, decorative bird cages, supplementing with sweets, fruits, berries, souvenirs, greeting cards. Do you want to surprise a birthday person? Then pay attention to the arrangements from KROKUS made in the form of festive cakes. Such a bouquet, supplemented with candles, will create a solemn atmosphere and undoubtedly will please the jubilee person.
How to order 70th birthday flowers in Riga (Latvia)?
To order birthday gift flowers with delivery in Riga and all over Latvia from the online shop KROKUS, use the convenient form of buying a bouquet online on our website or just call the manager of the company on the specified phone number.