Congratulate a dearest one with a birthday bouquet. 40th birthday flowers can be ordered directly on the website or by calling the operator of KROKUS studio at any time. 5-10 minutes and only few clicks will be enough to buy online flowers. Just select the arrangement you like, specify its desired size, as well as the time and place of delivery. To ship flowers online to the recipient from Riga (Latvia) is the simplest and the most original way to congratulate a jubilee, available to everyone. To order flowers for birthday in Riga is easy using services of our studio!
Choose 40th birthday flowers
Today one of the most universal and affordable gifts for any holiday are flowers. You can present a chic bouquet to a close person, friend or relative in honor of birthday, professional holiday, anniversary of wedding, Christmas, Easter, February 14, March 8 and other solemn events. Of course, every jubilee will be glad to receive a bright and original flower arrangement. To send flowers online to Riga with delivery to any address!
The Internet shop KROKUS is glad to welcome you on the pages of its official website and offers everyone to order a bouquet of stunning garden and meadow 40th birthday flowers in Riga and other Latvian cities. Among the advantages of cooperation with us are: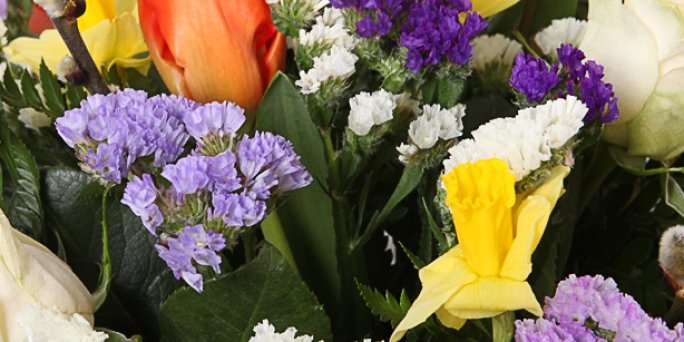 ● a wide range of arrangements for any taste and purse;
● the ability to choose yourself the cost of a bouquet, changing the size of almost any arrangement;
● delivery of flowers online in Riga and all over Latvia on time, weekends and holidays;
● highest quality at the most appropriate prices.
What flowers to send for birthday in Riga (Latvia)?
Our online shop offers a wide assortment of flowers that are great as a gift for the anniversary. In the catalog of goods you can find red, blue, crimson, orange roses, Dutch and royal tulips, irises, peonies, gerberas, callas, orchids and many other garden plants. It is possible to order birthday flowers in Riga and other city of Latvia in the form of an original arrangement, carefully made by a professional florist. Would you like to surprise and to please the jubilee person? Then pay attention to the bouquets:
● in stylish hatboxes;
● delicate decorative cages;
● a bright paper wrapper;
● a natural wicker basket.
In addition, flowers gift online will be a real surprise for any birthday person from Riga (Latvia), made in the form of a holiday cake. Our specialists can decorate such a composition with fruits, berries, candles. To ship flowers online to the address in Riga or any other city in Latvia means to express your warmest and most sincere wishes.
Buy online flowers with delivery in Riga and all over Latvia today!
Do you want to congratulate your mother, colleague, boss, girlfriend or just a close friend on the anniversary? Then send birthday flowers for her, ordering them at the best online shop in Riga and all over Latvia. It is possible to make a purchase of a bouquet in KROKUS, using convenient functions of our website or simply by calling the manager of the company on the specified phone number.