It is easy to find perfect and inexpensive gift! Pay attention to cheap flowers online presented in our catalog. Do you want to save your budget? Then buy flowers online cheap. KROKUS presents bouquets at a price from 7 to 15 euros! Is this not the best offer in the floristic market of Riga and all Latvia? It is possible to send flowers online cheap to colleagues, friends, acquaintances or relatives, being hundreds kilometers away. Make an order directly on the website or by phone +371 200 303 06 at any time of the day or night.
Where to find cheap flowers online in Riga (Latvia)?
Often the reason for the delivery of a bouquet of flowers can be not only a holiday or a solemn event, but a typical weekday. Every girl dreams to get a bright arrangement of fresh flowers without any reason. Indeed, a small gift in the form of a fragrant bouquet is a manifestation of attention, love and care that women need so much. However, not everyone can afford to buy an expensive gift on a typical day. Therefore, the online shop KROKUS offers its customers to buy cheap flowers online in Riga or another city in Latvia, which will please your loved ones. Fresh and fragrant cheap flowers online are already waiting for your order on the pages of our catalog
Delivery of a bouquet to the address is the best way to arrange a surprise
Do you want to surprise your loved one with an unexpected gift? Send flowers online cheap to the address in Riga or any other part of Latvia. Such a present will undoubtedly bring the warmest and brightest impressions, and also the recipient will remember it for a long time. In our online shop you can order the delivery of bouquets: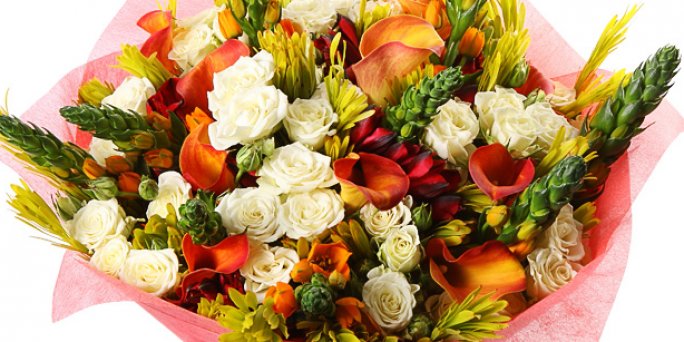 ● just on time;
● at night;
● on a day off or a holiday.
In addition, it is worth to mark out anonymous delivery of flowers, photo report on receiving a bouquet, delivery without the address of the recipient (by phone number) and other services among the possibilities of KROKUS courier service
How to buy flowers online cheap in Riga (Latvia)?
Do you want to buy flowers online cheap in Riga for sending across Latvia? Then the optimal solution will be to contact the online shop KROKUS. On the main page of our official website, select the section "By Price". Then go to the category that best matches your budget. Among the most accessible it is necessary to mark out fresh roses of 40 cm and tulips of different colours which will cost 12-15 euros for 9 pieces. Also inexpensive arrangements include bouquets of gerberas, hyacinths, irises, camomiles, freesias, alstromeries, hydrangeas, chrysanthemums, other garden and meadow flowers worth to 30 euros. You can buy flowers online cheap and quickly with the help of our floristic studio!
Note that on the page of almost any flower arrangement there is the possibility of choosing its size: from compact to large. In addition, when ordering, you can specify the sum you are counting on, and our florists will themselves compose the arrangement according to the desired cost. If you have difficulties when making an order on the website, then simply call the manager of KROKUS at the specified phone and get a free consultation on choosing a bouquet, as well as help in making a purchase.