Do you want to buy flowers online cheap? Then contact the best online floristic shop in Riga and all over Latvia KROKUS. Here you will find luxurious bouquets and delightful flower compositions at the best prices. We also deliver flowers to any address of the capital and the whole country in the shortest time. This means that you can congratulate your relatives and friends from Latvia without any problems, being away from them. You can buy flowers online by making an order on our website or by calling the manager of KROKUS studio at +371 200 303 06 at any time.
How to choose and buy flowers online cheap in Riga (Latvia)?
Many customers of the online shop KROKUS are interested in ordering cut flowers. Often such customers want to make a bouquet themselves or simply present fresh flowers to the gifted. Indeed, today the simplicity and laconism of the arrangement are gaining wide popularity. Some prefer to do without any décor and additional decorations in the bouquet. That is why our shop offers its customers a wide choice of fresh cut flowers, buy online cheap with delivery to Riga and other Latvian cities.
Why is Krocus the best place to buy flowers online?
The company KROKUS is one of the leaders in the flower market not only in Riga, but all over Latvia. We provide our customers with favorable terms of cooperation and a number of significant advantages, among which there are: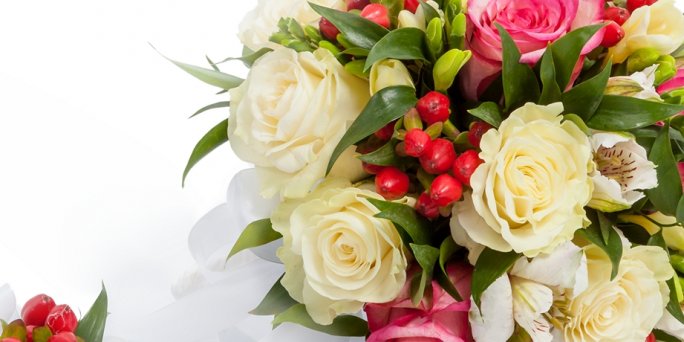 ● ability to buy flowers online cheap in any quantity;
● adequate prices in Riga and all over Latvia;
● a wide range of the freshest garden and meadow flowers;
● a large choice of gifts and additions to flowers;
● wide opportunities of courier service;
● individual approach to each client.
What flowers can I buy online in Riga (Latvia)?
If you are interested to buy flowers online cheap with delivery in Riga or in any other part of Latvia, then on the official website of the company KROKUS go to the section "Cut flowers". Here you will not find expensive bouquets or complicated designer's arrangements, however, you will find a wide range of fresh flowers, among them are:
● red, white, pink, yellow, blue, black, two-coloured, bushed, peony-shaped roses from 40 to 80 cm in length;
● delightful tulips of different colours;
● bright gerbera, freesia, ranunculus, chrysanthemums, lisianthuses, hydrangeas, hippeastrums, anemones;
● tender irises, lilies, callas, orchids, peonies.
The minimum price for buy flowers online in our shop with delivery in Riga (Latvia) is presented for 9 pieces. In this case you can order a bouquet consisting of a large number of flowers, and its size will not affect the delivery cost.
How to make an order?
To buy flowers online in Riga (Latvia) with the help of KROKUS is very easy. It is enough to add the goods you liked to the shopping cart, indicate the desired time and place of the delivery, as well as the address of the recipient, pay for the purchase in one of the convenient ways. Besides, you can also call the manager of the company at the specified phone number and get a free consultation on the choice of flowers, as well as help in ordering.