Congratulate your loved ones with St. Valentine's Day and buy valentine flowers online in the best online floristic shop in Riga and all over Latvia KROKUS. Magnificent flower arrangements dedicated to the holiday of the 14th of February are available for ordering on the website. We will deliver the chosen bouquet directly to the house of the gifted in perfect condition just on time. You can buy flowers online using the convenient functions of the website or by calling the operator of the studio KROKUS by phone +371 200 303 06. Orders are accepted twenty-four-hour, as well as on weekends and holidays.
Buy valentine flowers online with delivery in Riga (Latvia)
One of the most wonderful and romantic holidays in the modern calendar is St. Valentine's Day. On the 14th of February each lover wishes to give warmth, attention and affection to his half. And of course, no holiday can do without a bright gift!
The online shop KROKUS is glad to welcome its customers on the official website. Here you will find many exquisite and delightful bouquets for any celebration. Including, here you can buy valentine flowers online with delivery in Riga and in any part of Latvia.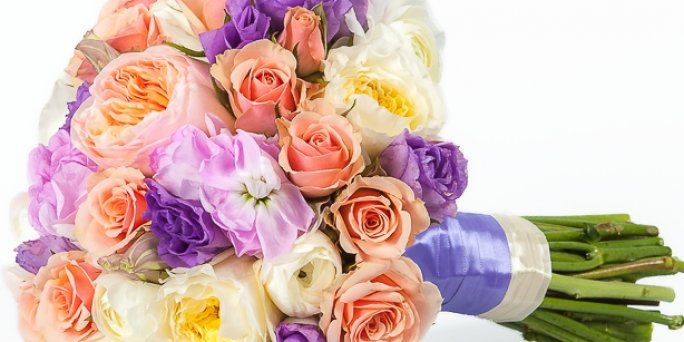 What flowers for February 14 can one find in KROKUS?
The catalog of goods of our company presents a wide range of bouquets and arrangements that were specially created by professional florists in honor of St. Valentine's Day. In the section of our website "What reason?" Select the category "February 14". Here you will find more than 150 types of fresh flowers and bouquets from them, among which are:
● heart-shaped bouquets made of pink, red, white roses, chrysanthemums, berries, chocolates, decorative plants;
● graceful arrangements in hatboxes;
● bright and magnificent designer's works of florists from crimson, blue, orange and two-coloured roses, as well as tulips, irises, hydrangeas, freesias, lilies, peonies;
● arrangements in wicker baskets and even decorative bird cages.
You can safely say that you will not find a better place to buy flowers online in Riga (Latvia) than KROKUS thanks to such a variety of garden flowers, as well as additions and accessories!
How to buy flowers online with delivery in Riga and other cities in Latvia?
To buy flowers online with the help of the best online shop in Riga and the whole of Latvia KROKUS is very simple. To do this, go to the company's product catalog, select the desired bouquet, specify its size and add it to the shopping cart. After this, if you want, complete the arrangement with a gift and click on the button "Checkout". In the opened form, specify the date and the time of the desired delivery, as well as the contact information of the recipient and pay for the goods in one of convenient ways. If you have difficulties when making an order online, you can simply call the manager of KROKUS at the specified number and clarify all details of the order in a phone mode.