It became even easier to buy fresh flowers online same day delivery without leaving home! Pay attention to the assortment of stunning bouquets and flower arrangements from the flower studio KROKUS. Order same day flowers delivery in just 5-10 minutes. A few clicks and you get the freshest and fragrant flowers in 2-3 hours! You can also arrange flowers same day delivery on the phone. Call the operator of the KROKUS studio at +371 200 303 06 at any time. The best flowers and gifts are waiting for you in our online shop.
Same day delivery of flowers in Riga (Latvia)
One of the most popular flower shops in Latvia KROKUS is glad to welcome all visitors to its official website. Here you will find and buy the best bouquets and designer's arrangements, as well as order same day delivery of flowers at the address in Riga. Among the advantages of buying exquisite works from fresh garden and meadow plants, we should highlight:
● a large selection of flowers for any taste;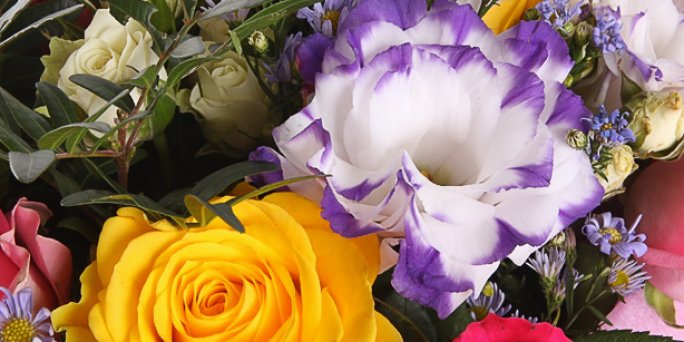 ● the most adequate prices in the capital and throughout Latvia;
● a wide range of gifts and additions to bouquets;
● broad opportunities for courier service;
● 24-hour reception and processing of orders;
● individual approach to each client.
Inexpensive flowers online same day delivery
Did you like the arrangement, but you cannot afford to buy such an expensive bouquet? No problem! KROKUS is happy to help each client, and therefore offers its customers a flexible pricing policy. It consists in the possibility of changing the size of almost any bouquet: from compact to large. Thus, if you cannot afford a large basket of tulips or an arrangement in the form of a heart of 101 roses, you can purchase an exact copy of a particular bouquet, but in a smaller version. And of course, the online shop KROKUS will be able to perform any, even a very compact arrangement of same day delivery of flowers to your house to Riga (Latvia). Are you looking for cheap mothers day flowers? KROKUS is the best solution!
Features of online flowers same day delivery all over Riga and Latvia
It is worth noting that the courier service of KROKUS works 24 hours a day, 7 days a week. We bring our customers flowers even on weekends and holidays, as well as at night. Agree that this service you will not find in any shop in Riga, and all over Latvia. For example, we offer our customers:
● same day mothers day flowers, Christmas, Easter, Ligo and other holidays;
● fast delivery of bouquets for birthday, wedding, graduation and similar celebrations;
● anonymous delivery of arrangements to the address;
● delivery of flowers by phone number, etc.
You can order flowers same day delivery by purchasing a bouquet in the online shop KROKUS or simply by calling the company manager at the specified number. In addition, in the phone mode you can get a free consultation on the choice of a bouquet and help in making a purchase. The flowers delivery Latvia from the online shop KROKUS will help you to express your warmest and most sincere wishes to a loved one in any holiday! Happy mothers day flowers are waiting for the order on the pages of our website!