To arrange orchid flower arrangements delivery to Riga and any city of Latvia is possible by addressing the best Internet floristic shop of the capital KROKUS. Luxurious blue orchid flower delivery for any holiday will impress and please every recipient. Original white orchid delivery to any part of the capital within 2-3 hours will help to save the solemn event, decorate the interior, cheer up the gifted. Order flowers delivery online on the website of KROKUS or simply by calling the shop operator at +371 200 303 06.
Orchid flower arrangements delivery to Riga and all over Latvia
Today flowers are one of the most widespread and popular gifts around the world. However, it is worth noting that customers often prefer not traditional cut flowers, but live plants. Indeed, it is much more pleasant to hand over a living flower to a loved one who will be able to please the owner for a long time with his beautiful appearance, and also decorate his house. But which flower to choose as a gift?
The Internet shop KROKUS is glad to welcome visitors to its official website. Here you can find a wide selection of bouquets and arrangements at the best prices, including the most unpretentious, original and delightfully beautiful live flower - an orchid. It is this plant that is in great demand among the lovers of floristry all over the world. Here you can order retail and also wholesale orchid flower arrangements delivery to Riga or any other corner of Latvia.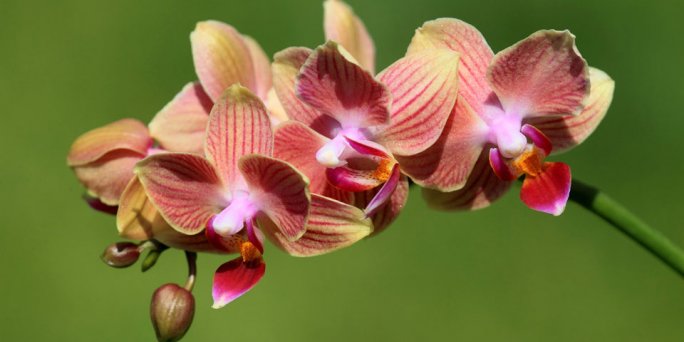 Assortment of orchids for delivery
In "Bouquets" section of our catalog, select "Orchids" category. In it you will find many beautiful flower arrangements created on the basis of orchids. You can order bouquet of orchids within 5-10 minutes, even without leaving your house. Each bouquet is unique in its own way and can be used as a gift for any holiday, for example, International Women's Day, Easter, Graduation, Wedding, Knowledge Day, etc. Often orchids are chosen as a birthday present or handed to a girl on a first date to emphasize her personality. Also many customers choose mother's day orchid delivery.
In addition, wholesale customers from Riga and other Latvian cities can order white and blue orchid flower delivery in the form of living plants. Such bright and unpretentious flowers will be a desired gift for any lover of indoor plants.
Monthly orchid delivery to flower shops of Riga and all over Latvia
Do you want to find a reliable supplier of fresh flowers and indoor plants? Do you want to make an order for the regular blue and white orchid delivery to a retail outlet in Riga or any other city in Latvia? Then feel free to contact the online shop KROKUS. Having signed an agreement with the company manager, you can forget about the problems of transportation of live plants forever and provide a steady orchid bouquet delivery to your shop at the most adequate price!