FOR CORPORATIVE CLIENTS
The Krokus company is a leader in the industry of decorating rooms and interiors, banquets, wedding receptions, and corporate events. Only top designers will work with you and they use flowers and plants from all over the world.
Every minute is very valuable nowadays. Our designers will come to you with their suggestions to decorate your celebration and conferences rooms, meetings, etc. It's only up to you to choose a suitable flora decoration.
When signing an agreement with us, our floral products and flowers will bring you and your colleagues joy and positive mood, and they are the main elements of any successful business.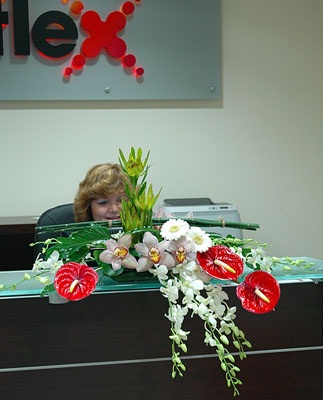 For corporate clients
Do you need flowers for your company?! The Krokus webshop is the best choice among floral companies.
Floral decorations play a big role in organizing business events. It's nice when office tables are decorated with fresh flowers, and employees are congratulated with bouquets of fresh roses. Business partners should be congratulated too.
Our offers:
Delivery of flowers and bouquets in Riga
Delivery of wedding bouquets in Latvia
Decorating offices, cabinets, and receptions with flowers
Decorating business events: exhibitions, corporate events, parties
Conducting on-site workshops.
You can choose flowers from employees from our catalog. We can create customized floral arrangements by considering all of your design and price preferences.
Flowers for legal entities. We deliver floral arrangements on very favorable terms and on time.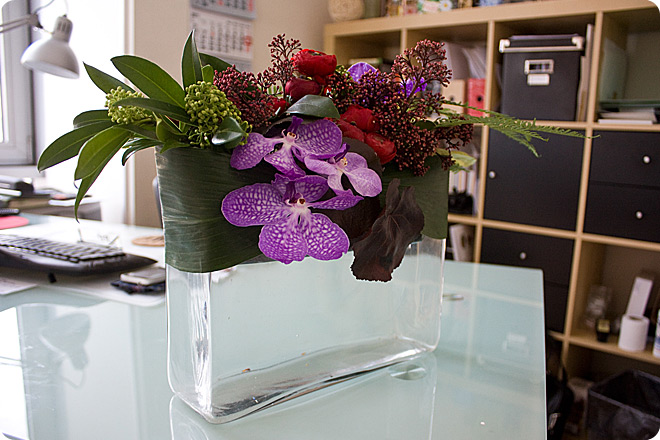 You get:
Discounts up to 20% on the services we offer.
Reports on the work we do
Customized services
Order payments with wire transfers
Discounts are directly connected with the price of your order
Call us to become a corporate client:
We'll send an agreement and discuss its terms
Corporate Department:
The head of corporate sales: Marina Sidorova, phone number: +371 25 907 300, e-mail: marina.sidorova9090@gmail.com
To make the interior of your cafe, bar, restaurant, office or beauty salon original and alive will help flower subscription from the best online floristic studio of Riga and all over Latvia KROKUS.
Flower subscription for corporate clients from Riga and all over Latvia
Floristic decoration of the office is an important detail of the modern interior. Boring and monotonous pieces of furniture, lack of decor and plenty of equipment in the room is unlikely to please your customers, employees, partners. Floristics studio KROKUS is pleased to offer to the owners of private firms, offices, companies, flower subscription service, which allows filling the interior of the working space in Riga (Latvia) with delightful fresh flowers.
The best flower subscription service in Riga (Latvia) will help to decorate:
cafe, restaurant, bar, banquet hall;
conference room, office, private office;
waiting room, reception, lounge, etc.
Ordering the subscription flower delivery to your office in Riga (Latvia), you are guaranteed to receive the freshest flowers just in time at the best price.
In addition, the subscription flower delivery in Riga and all over Latvia is a profitable offer for corporate holidays. As you know, solemn events within the company improve the overall mood of the team and communication between employees. Of course, every employee will be happy with the holiday in the office. To decorate the solemn event of the company from Riga (Latvia) will help flower subscription gift for employees.
The best monthly flower subscription in Riga and all over Latvia
If your company tends to make corporate events and holidays regularly, then the best solution is to order monthly flower subscription in the best online floristic shop in Riga and all over Latvia KROKUS. Monthly flower delivery subscription will allow your collective not to miss any birthday of employee, to decorate a premise for any holiday, and also to work in a pleasant atmosphere surrounded by fresh and beautiful flowers. Fast delivery flowers and chocolates in riga is available for order in our studio!
For companies such as beauty salons, shopping and entertainment centers, as well as organizers of exhibitions, presentations, etc. the online shop KROKUS is pleased to offer weekly flower delivery subscription to any address in Riga and all over Latvia. A weekly flower subscription from our studio is a guarantee of a permanent flower decor at important events, celebrations and solemn events of your company. Here you can issue:
fresh flower subscription in baskets;
flower box subscription, supplemented with sweets, berries, fruits;
flower bouquet subscription created by the best florists of Riga and all over Latvia.
How to apply for a monthly flower subscription in Riga (Latvia)?
To make an order for monthly delivery of fresh flowers, bouquets and compositions on the most favorable terms in Riga and all over Latvia, it's enough just to call the manager of KROKUS studio and clarify all details of the application. The specialists will offer you some of the most popular variants for floristic design of holidays, as well as regular delivery of bouquets and compositions. A vivid example can be flower subscription box, which is very popular in Riga and all over Latvia. In addition, you can yourself choose the delivering items presented in our online shop and make a plan for sending them to your office for a week, a month or even a year. Contact KROKUS, and we will help to make every your holiday unforgettable! Magnificent latvian flowers are waiting for your order on the pages of KROKUS.