Payments
BankLink
It's a payment through your online banking right after making an order. You will be redirected to the page of the bank money order automatically put up for your approval. When a payment is successfully made, your order will be confirmed immediately and you will receive an order and payment confirmation. Bank Link is not only the safest but also the most modern payment method in Latvian online shops. You pay for products or services you are doing with Swedbank, Citadele, SEB, Norvik by using an online banking account, which is the safest and fastest payment method.
Bank Link payments are processed by АS LatCard. You can read more about secure payments on www.latcard.lv




VISA or MasterCard payments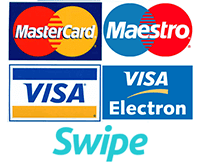 It's one of the oldest and most conventional online payment methods. The payment system is protected from fraudulent transactions, including 3D-Secure technology, which is a unique system that offers secure online payments and it's a part of the global program MasterCard® SecureCode ™ Verified By Visa. As a buyer, before paying, you need to read the terms and conditions and give your consent .
WEBMONEY
WebMoney Transfer is an international online payment system established in 1998. More than 32 million users have joined this system worldwide.
Payments in the system are made immediately and safely. To pay using WebMoney, you need to choose the products you like, go to the basket, and fill in the necessary delivery details. After filling them in, you can choose a payment method for your order. You need to choose WebMoney, so click on the Pay button next to the WebMoney logo. To pay, enter your data in the WebMoney system and confirm the order.
After a successful order payment, order you will immediately receive a notification of receiving your money, and your order will be transferred to our managers. We are available around the clock and seven days a week, so your order will be delivered at the time specified by you when making it.
We offer you detailed instructions to pay for flower delivery in Riga via WebMoney.
All of your WebMoney Transfer payments are made automatically and transferred to the wallet E181556773385
You can check our certificate:


Check the certificate